Mobile game developer behind Angry Birds to slash jobs
|
Rovio Entertainment will be cutting up to 16 percent of staff due to lack of success.
The Finish video game developer and entertainment company that is well known for creating its smash mobile game hit, Angry Birds, will be eliminating up to 130 jobs at its home base in Espoo, Finland, located near the country's capital Helsinki, due to a drop in profits, according to a statement made in a recent blog post by the company's CEO Mikael Hed.
Rovio has approximately 800 employees worldwide.
The company boosted its staff and developed new games, such as Plunder Pirates and Amazing Alex after the success of Angry Birds, but its newer titles failed to be as popular. As a result, sales growth slowed and profits dropped as rival mobile games like Candy Crush Saga and Clash of Clans earned huge mobile gaming success.
In his post, the CEO said that "We have been building our team on assumptions of faster growth than have materialized."
Back in 2010, the Angry Birds mobile game was the top-earning app in Apple's US store.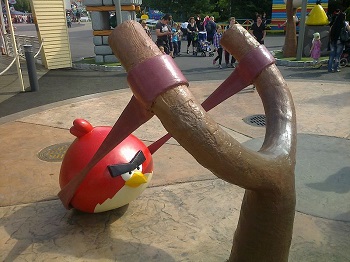 Aside from being the best-earning app, the game's many versions have totaled over 2 billon downloads. Rovio's revenue doubled in 2012, but since then it has slowed as its new titles have been unable to climb to the top of the charts.
Rovio had wanted to avoid Zynga's fate of relying too heavily on its game FarmVille for a great deal of its revenue, by expanding beyond its Angry Birds video game franchise. It also attempted to seek the success of Candy Crush and Clash of Clans by imitating certain features of these games, such as by including in-app purchasing. The in-game purchases of these two free-to-play games encourage gamers to continue spending a small amount to accelerate their game progress, instead of a one-time payment, which was the case with the majority of the Angry Birds iterations.
The mobile game industry is believed to be a future source of growth for Finland's economy, but Rovio's job cuts may have dampened this hope. In August, the company announced that at the end of the year, Mikael Hed will be joining the company's board of directors and Rovio's current chief commercial officer will be assuming Hed's position.