Iron Man-inspired underwater augmented reality helmet developed by the Navy
|
U.S. Navy researchers have developed a new high-tech underwater helmet with AR display.
While augmented reality (AR) displays are nothing new to the military, as they've used these displays for decades (particularly in the form of heads-up displays (HUDs) in the cockpits of aircrafts and more recently integrated into helmets), this technology is now evolving further with the development of an underwater augmented reality helmet. The unique diver's helmet is being developed by engineers at the US Navy's Naval Surface Warfare Center Panama City Division. It will feature a built-in HUD, which can guide divers to specific locations, help them find objects, and even provide them with vision when there is almost no visibility.
The AR helmet is being designed to increase the efficiency and safety of divers in the line of duty.
According to Tech Times, the futuristic Divers Augmented Vision Display (DAVD) helmet will help to make the work of professional divers easier and more streamlined compared to the current standard masks and neoprene gloves that are worn. The mask narrows the field of view and the gloves obstruct precision.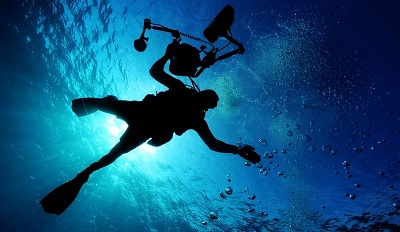 Just like the Marvel superhero Iron Man, divers will be able to view all the necessary data they need within the helmet, from checking their location to tapping into sonar data. They can keep looking straight ahead instead of having to check a smartwatch display.
Dennis Gallagher, the research team leader, said that what users of the new helmet can expect is "a capability similar to something from an Iron Man movie."
Although still in the prototype phase, the underwater augmented reality helmet could see widespread use.
Due to the fact that underwater work typically involves poor light conditions and/or salty water, the DAVD displays can help to provide additional visual clues that could greatly assist divers, showing them the image in front of both eyes, creating visual depth. The AR display can also improve their connection to surface sources, such as a ship, which can send out information to the display.
While the device is only in its early prototype phase, future improvements made to it could lead to the inclusion of sonar sensors mounted on the helmet, which would make it even easier for information to be collected and displayed.
The Navy has said that in-water simulation testing for the underwater augmented reality helmet is slated for October.