India holds vast promise in the mobile commerce space
|
Entrepreneurs in India could find success in the growing mobile commerce market
India may be home to vast, untapped potential when it comes to mobile commerce. A recent summit of students from the Indian Institute of Management and the Indian Institute of Technology attracted many professionals in the mobile sector. These professionals highlighted the promise of mobile commerce, largely due to the growth of smartphone penetration throughout the country. With more consumers using their mobile devices to shop online, retailers are beginning to invest heavily in mobile commerce.
More than 800 technology startups are launched in India every year, with many being mobile-centric
According to Ganesh Natarajan, CEO of Zensar Technologies and former chairman of NASSCOM, technology entrepreneurship in India leads to more than 800 new startups being launched every year. A growing number of these startups are focused on the mobile space, either providing consumers with a way to shop and pay for products online or give retailers a way to serve mobile consumers more effectively. The growing number of mobile startups is leading more consumers to become more active in the mobile commerce space.
India continues to outpace other countries as a leading mobile commerce market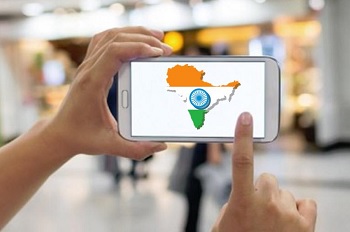 India is one of the world's fastest growing mobile commerce markets, rivaled only by China. Several organizations have begun to flock to the country in order to take advantage of growing number of mobile consumers. These organizations are launching mobile services or taking majority stakes in companies that have already established a foothold in the mobile commerce space. Alibaba is one such company.
Alibaba sees major promise in India's mobile commerce market, offering financial support to some platforms
Alibaba has already found success in China's bustling mobile commerce market, but it has begun to set its sights on the Indian market as well. Alibaba has invested in some of India's leading mobile payments platforms, hoping to encourage growth throughout the country. Such growth could benefit Alibaba in the future, as the global e-commerce market has become so interconnected that retailers can find success in several markets at once.