Consumers favor smartphones when it comes to mobile commerce
|
New report highlights trends emerging in the mobile sector
Branding Brand, a leading mobile commerce vendor, has released the latest edition of its Mobile Commerce Index report. The report focuses on highlighting trends that have emerged in the mobile commerce space. The report shows that consumers are beginning to embrace their smartphones as their favored mobile shopping tool. As more people consider their smartphones ideal for online shopping, they are beginning to spend more money through these devices than they had in the past.
Smartphone traffic and spending is growing rapidly throughout the retail space
According to the report from Branding Brand, online traffic from smartphones has risen by 83.8%, with purchases made from these devices growing by more than 96%. Retailer websites that offer an enjoyable online shopping experience tend to see the highest levels of mobile traffic. Smartphone users tend to be quite critical of their shopping experience, so if retailers are lacking appropriate support for mobile devices, shoppers are unlikely to continue visiting those retailers online.
Some consumers favor shopping online over visiting physical retail stores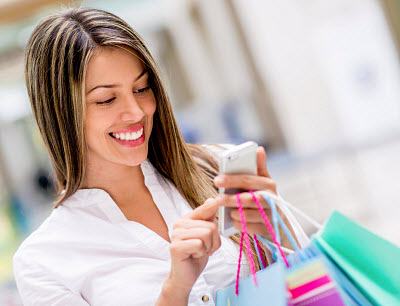 Smartphones generated nearly 30% of all online traffic to retail sites, with iOS devices leading their Android counterparts. Smartphones also account for a major increase in retailer revenue. Smartphone users are spending more money while shopping online as they enjoy the convenience of mobile payments. For some, it is easier to shop online than it is to visit a physical retail store and mobile commerce allows them to avoid crowds and other inconveniences.
Tablets may become the favored online shopping tool among consumers, but smartphones reign supreme for the time being
While smartphones currently account for the majority of mobile commerce activity, tablet devices may soon become the favored shopping tool among consumers. Tablets are often praised for providing an enjoyable mobile shopping experience. This has to do with their larger screens, which allow users more control when their visit online retail websites. Tablets are currently behind smartphones when it comes to mobile shopping and spending, but this may not be the case for much longer. For most consumers, an enjoyable shopping experience is much more important than what device they are using to actually shop.