Augmented reality launched on buses in Scotland
|
Passengers on public transit in Aberdeen are now taking advantage of new technology based entertainment.
Commuters taking the public transit buses in Aberdeen, Scotland now have a brand new augmented reality experience available to them that will allow them to gain a great deal more entertainment out of their rides.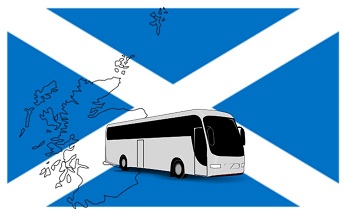 Through the use of mobile devices, they can now enjoy high tech entertainment while onboard.
Using smartphones and tablets, passengers on these Scottish are able to open up an interactive video channel that gives the viewer the choice to view a range of different content, including information about the transit services, interviews with staff, movie trailers, and even the ability to purchase tickets or surf the web.
There are 35 First Aberdeen buses that have been equipped with this augmented reality feature.
To make this service more readily available to a larger number of mobile devices, the buses also feature free WiFi for riders. This initiative has been generating a considerable amount of activity from passengers. In fact, since it first launched in November, there have been thousands of individuals who have accessed the content available through this AR channel.
_____________________________________________________
Ad -

#1 Ways to Double Your Productivity For Life
By Jason Fladlien, referred to by many as "One of the top 5 living marketers on the planet". How did he get there? By working smart. Get twice as much out of your day with Jason's easy system -
Learn More Here
_____________________________________________________
All that riders need to do to access the AR material is to follow the instructions on the bus seat backs for downloading the free First Scotland app from Google Play or the Apple App Store. The app makes it possible to aim the mobile device at the seat back to trigger the video channel so that it can be streamed into the smartphone or tablet.
According to the General Manager of First Aberdeen, Duncan Cameron, "Our new augmented reality channel brings our seat backs to life and I hope makes bus travel that little bit more interesting and enjoyable." He also went on to say that the transit system believes that they are the first company of that nature around the globe that has implemented AR tech on the backs of bus seats in order to help to encourage ridership on their vehicles. The sheer number of uses that the feature has seen until now has revealed the type of interest that this can, indeed, draw.