Augmented reality ads now don Pizza Hut delivery boxes
|
The marketing effort is a part of a partnership between the restaurant and Xbox One.
The massive international restaurant chain, Pizza Hut, has partnered with Xbox One to provide customers with exclusive content in the form of augmented reality ads that play on a smartphone or tablet that is aimed at one of the specially made interactive delivery boxes.
This campaign has been launched in the United Kingdom and is available on specially marked boxes.
These augmented reality ads are for the Forza Motorsport 5 game that was recently released. The AR content can be viewed using the free Blippar app and allows people who order the pizzas to be able to view this unique video and its associated features. This is not the first time that the pizza chain has taken part in this type of advertising.
The current augmented reality ads are being compared to some from the past, such as the one for Halo 4.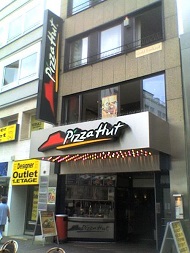 That partnership with Microsoft aligned with the release of that high profile game and generated a considerable amount of attention. In that promotion, there were 500,000 limited edition boxes that featured the specially printed cover with the image of the game that would come to life when viewed through a smartphone or tablet. Customers animated the image through the use of the Blippar app and were able to interact with it in order to be able to enter into a sweepstakes as well as to view trailers for the game.
Blippar has taken part in a broad range of different AR mobile marketing campaigns with large brands, such as Pepsi and even one of the main competitors of Pizza Hut, Dominos Pizza. This is the first time that they have worked on a campaign for augmented reality ads for Pizza Hut UK. The restaurant has also worked AR into other efforts to engage with customers, only in its Middle East operations, where it experienced very positive outcomes. This technology aligns well with advertising for a broad range of brands and their products and services, giving the surfaces of the delivery boxes an entirely new purpose.