Angry Birds takes on mobile gaming puzzles
|
Rovio's most popular app could now be taking on Candy Crush as it jumps into a new game category.
When it comes to the mobile gaming industry, Angry Birds continues to hold its position among the most popular app series in the world, but at the same time, it isn't even approaching the financial successes that are seen by puzzle based options such as Candy Crush Saga.
The Angry Birds developer has now decided to that its mobile games will be closer to Puzzle & Dragons.
Rovio has not been blind to the match-three puzzle style mobile gaming apps and it has now soft-launched two new games in the Angry Birds series that have dumped their traditional bird slingshot style play for, yes, themed match-three puzzles. Angry Birds Fight! has now been made available in Thailand, while Angry Birds Stella Pop! is available to Canadian downloaders.
Mobile gaming developers have been using single country debuts as a type of standard for testing their apps.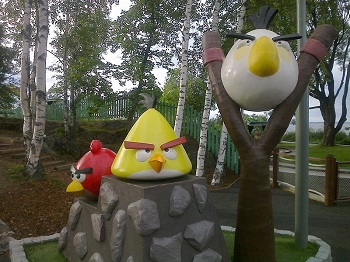 The mobile app developers use these single country releases to be able to refine their new games before they are ready to launch them worldwide. According to recent reports from early downloaders, the style of the newest Angry Bird match-three puzzle games is that of "freemium" applications, in which they can be downloaded and played for free, but where there are in-app purchases for virtual items available to players who want to enhance their experience.
The Angry Birds Fight! version of the game involves having to match three or more birds in a line in order to be able to combat enemies – somewhat similar to the highly popular Puzzle & Dragons game from the GungHo Online app developer based in Japan.
On the other hand, the Angry Birds Stella Pop! is more comparable to the Puzzle Bobble (also known as Bust-a-Move) console classic bubble popping game, or to the more recent mobile gaming app from King (maker of Candy Crush), which is called the Bubble Witch Saga. This move will be a defining one for Rovio, which still holds onto considerable popularity with its Angry Birds app, but that has been watching that popularity slide since late 2012.