American Girl launches mobile app friendship bracelet game
|
The highly popular brand from Mattel Inc. is now making its way into the digital world with an application and microsite.
The American Girl brand from Mattel Inc. has now launched a new mobile app that will allow its users to be able to create virtual friendship bracelets that they can then share with their friends who are also users of the application.
This effort to move into the digital space is also being accompanied by the addition of a new microsite.
Both the mobile app and the microsite's appearance have been designed to be released in time to draw attention to the new Truly Me doll from Mattel, as well as the accessories line that goes with that product. The website was created with the desktop experiences in mind, but it can also be used on smartphones and tablets. That said, while all of the features may work over mobile devices, the format remains the same as that of the desktop, which can be a turnoff to many small screen device users.
The mobile app is the experience specifically meant for smartphone and tablet users as the microsite is not optimized.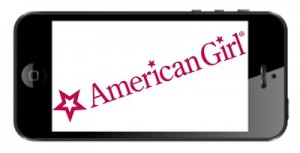 The addition of the mobile application and the website that gives access to the experience to laptop and desktop users has the potential to expand the interaction and interest associated with the Mattel products. It works well with the existing feature of the brand that has been designed to ensure that each doll is seen as its own unique individual.
Every doll has a character that belongs to her alone. She has her own interests, experiences, talents, and her own accessories. This makes it possible for children to be able to personalize and customize their dolls so that they can better identify with them and so that the product will mean more to them. American Girl strategically leverages the activity of playing with a toy in real life as well as using a computer or video game, in order to enhance the meaningfulness of the experience with the brand.
By making a mobile app and a desktop microsite, American Girl will appeal to consumers who use either or both of those digital platforms.