Wearable technology shoes provides GPS feedback
|
As smartwatches rise in popularity partly for use as a fitness tool, there is now footwear designed to do the same.
A company from India has now entered the wearable technology market not with the typical fitness band or smartwatch device, but with a pair of shoes that are enabled with GPS tech to help to provide wearers with directions.
These red sports shoes will become available for purchase later on in September.
Consumers interested in purchasing this wearable technology will need to look for vibrant red sneakers called LeChal, which is a Hindi term that means "take me along". Aside from providing directions to the wearer through its GPS, these shoes also work as a pedometer, counting steps, and will estimate the number of calories that are burned by a workout or in a given day.
This wearable technology also includes a Bluetooth transceiver that is detachable from the shoes.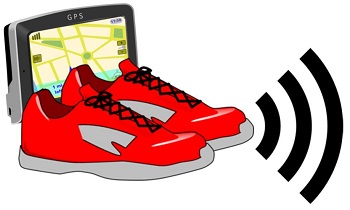 The Bluetooth feature on these wearables allows the shoes to connect to a smartphone app that uses Google Maps. This way, the wearer can receive indications as to whether he or she should turn left or right. The shoes vibrate to signal to the wearer that he or she should turn in one way or the other.
The LeChal shoes are the creation of Anirudh Sharma, 28 and Krispian Lawrence, 30. These are two engineering graduates who began their startup company, Ducere, back in 2011. It has experienced rapid growth and is now the employer of 50 people. The company decided to stay away from the typical wearables that currently look like devices out of science fiction films. Instead, they chose to create a product that looks just like something that people are already choosing to wear, so that fashion and function could be combined in a more subtle way.
While it may not be outfitted with all of the various functions that are contained within the standard smartwatch found in today's wearable technology marketplace, it still contains some useful features that are practical for the purposes of the wearers of this type of product. Moreover it does not result in the obligation of the wearer to add a new element to his or her fashions, particularly in terms of what is worn during workouts.